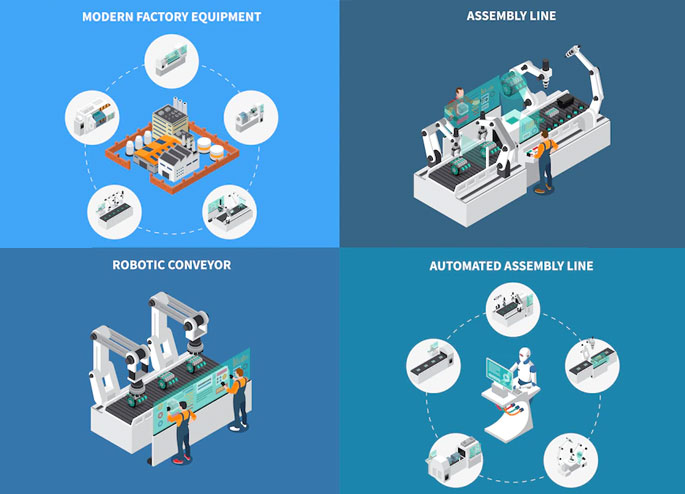 About Us
The idea of RoboTechMech Solutions is the brainchild of five passionate people belonging to the field of food processing and robotics with their valuable experience in mechanical, chemical, instrumentation and along with knowledge of automation and technology. The team is now a seamless amalgamation of experience and youth that understand the current needs of growing industries.
We aim to develop solutions strongly making sure that it can easily be integrated in manufacturing processes such that it requires less human intervention and facilitates lean manufacturing along with Quality Assurance using Robotics and Latest Technologies, so that Industries can evolve!
The current market faces a pressing need for automation due to challenges like unavailability of manpower, Unprecedented demand in food and pharma industries along with the need to maintain COVID19 protocols and non contact requirements, thereby highlighting technical challenges like Inspection defects, requirement of efficient production analysis and need of automation for control and automatic removal of defective units to name a few.
With these challenges faced by industries we are focused to solve them by Identifying & Eliminating Defective Production, Eliminating Costly Damages due to Inadequate Sorting and Connected Factories ~ Smart IoT Factory with Intelligence.
Hence we at RoboTechMech aim to develop Cost Effective and Sustainable Robotics and automation Solutions, our focus is to cater the Food & Beverage industry and relevant production lines and supply chain management.
We specialise in biscuit manufacturing production lines for turnkey projects. We have automated production lines using Real Time Image Analysis with Industry Grade High Speed Vision System, High Speed Robotics with Conveyor Tracking and Defect Tracking for Quality Production and implementing Business Intelligence using State of Art Software System for Biscuit Production.
Vision
RoboTechMech Solutions Pvt. Ltd. wants to be India's go to brand for F&B Quality Analysis and Quality Control Integrated solutions.
RoboTechMech Solutions Pvt. Ltd. wants to be an Indian F&B and Consumer Goods production unit technology partner for Robotics Integrated Solutions.
RoboTechMech Solutions Pvt. Ltd. wants to be Turnkey System Provider to transform Biscuit Manufacturing Unit to evolve in the new Digital Age using disruptive technologies.i.e. Vision, Automation and Robotization.

Jignesh Parmar - Managing Director
Jignesh is Managing Director of Robo Tech Mech Solutions Pvt. Ltd. (RTM). Alongwith MD of RTM, he is also a chairman and Managing Partner of Parmar Brothers, Capital Goods Manufacturing and an Engineering Company. Jignesh first began working for Parmar Brothers during summer breaks in high school. After completing his Chemical Engineering studies he took over his family business at the age of 20 and expanded into multiple units where he employs more than 200 professionals and technicians.

As an Entrepreneur and founder member he spearheaded Jigs Enterprise which specialise in industrial services, J.P. Projects and Machines dedicated verticale for manufacturing and export of food processing machinery and J.P. biscuits Pvt. Ltd., which is Parle biscuit contract manufacturing unit. These businesses directly employ more than 300 people and Jignesh is an active director, investor and business magnet for each verticale.

Jignesh with professional endeavours takes active interest in developing the youth of India by participating in various educational in-plant training related engagements, serving as a visiting faculty and a renowned alumni of Shri Bhagubhai Mafatlal Polytechnic(SBMP). Jignesh's lifelong passion has been machines, in personal life he merges that passion with his hobby by owning and driving world class automobiles.

He is based in Mumbai, India. His vision as an Entrepreneur is to be a medium to generate employment in India and empower small and medium scale production facility workers with technology to compete at the growing pace of production and demand.

Pankti is a Director of Robo Tech Mech Solutions Pvt. Ltd. She is based in Mumbai, India and responsible for managing all aspects of advance product research, innovation, consultancy and training unit's portfolio.

Pankti has held distinction throughout her educational career and holds bachelor's degree in Electronics and Telecommunication Engineering from the D.J. Sanghvi College of Engineering affiliated to The University of Mumbai. She is also a certified Internal Auditor from TUV NORD India. Pankti has attained professional classical dancer status to represent India on the international stage in Italy and she is an excellent artist and holds grade A qualification to represent her and client imagination to the drawing board.

Pankti has extensive exposure to a wide variety of automation software used for the shop floor application development and higher level languages, this knowledge allows Pankti to integrate shop floor and manufacturing management related disruptive technologies and transform a normal production unit into a digitally enhanced and an efficient unit.

Pankti is recognized for her knowledge in implementing Kaizen and 5S systems for the plant and to produce Data Visualisation from orders and costing data for actionable insight to drive the business units efficiency.

Apurva Oza - Director Technology
Apurva is the Director Technology for Robo Tech Mech Solutions Pvt. Ltd. Apurva is also a founder and Managing Director of a technology driven company APTRaise Technologies Pvt. Ltd. Apurva Oza is also serving as a Director Technology & Manufacturing at NHANCE Dynamics Pvt Ltd.

In his career of 20 years, Apurva has worked in various positions starting from grass-root roles to leadership roles. He therefore understands the perception of design, development and technology across various functional roles.

Apurva graduated from Sardar Patel University, Gujarat in 2001 with a Bachelor of Engineering in Mechanical Engineering from G H Patel Collage of Engineering. He then joined a MSME organisation, Modtech Machines Pvt. Ltd., and was immediately assigned a role in the customer service department for Europe operations. Having commissioned more than 200 machines in many countries of mainland Europe, he was further given more challenging roles in design & development to compete with international manufacturers from USA, Germany & Japan. After a successful stint at designing world-class products, he was assigned a larger role of leading the organisation to bring disruptive technologies and introduce state of art robotics to the industry. Apurva, with his team of more than 250 people, introduced AI based software applications, collaborative robotics and fully automated production lines with vision-based robotics, complying with full Industry 4.0 status.

In his more recent assignments, he handled duties as divisional head - technology and alliance and was responsible for establishing, developing and growing subsidiaries in USA, LATAM & Europe.

In the past, he has led the development and growth of disruptive technologies for organisations like Rolls Royce – UK, Safran – France, BAE System – UK, HTRC – UK, Canon – USA, Doncasters Group – Worldwide, Boeing, Airbus, Hamilton Jet – NZ, MHI – Japan, Hitachi – Japan, Access Tech Centre RWTH – Germany, Fraunhofer IFAM – Germany, Morgan Ceramics – Worldwide. His cutting-edge industrial designs are certified by reputed safety frameworks such as CE and UL.

In India, Apurva has been working with automated robotic production lines for Engineering Giants, FMCG & F&B companies like L&T Technology Services, Wipro Infrastructure, Unilever – Global, ITC, Perfetti, Godrej, Pidilite, IKEA and many more. He has developed these solutions with alliances from KUKA Roboter GmbH, ABB Robotics, B&R – Austria, Beckhoff - Germany, Epson Robotics – Japan, Fanuc Robotics – Japan, Omron – Japan & Atos – Italy.

Harshal Oza PhD - Director R&D
Harshal Oza is Director R&D for Robo Tech Mech Solutions Pvt. Ltd. (RTM). Harshal is also the CTO of AptRaise Technologies Pvt. Ltd. Harshal's expertise in the areas of dynamics and control of Robotics and Automation naturally aligns with the vision of Robo Tech Mech Solutions Pvt. Ltd. Harshal has a PhD in Control Systems Design with experience in industry as well as academia. He has close to 20 years of experience with a balanced skill set encompassing engineering practice, fundamental scientific research and leadership in institution development.

Harshal has a rare multidisciplinary background in terms of his training and experience. His B.tech degree was in Mechatronics Engineering from Sardar Patel University, Gujarat. He obtained his Masters in Control Systems Engineering from The University of Sheffield, UK and his Ph.D. degree from The University of Kent, UK. He followed his PhD with a postdoctoral position at Kent for innovation in robust and nonlinear control. He received scholarships for his PhD and Postdoctoral positions from the Engineering and Physical Science Research Council (EPSRC), UK.

Harshal began his professional career with B&R Industrial Automation (now merged with ABB group) as an application engineer in Industrial Automation. Following his post-graduation in the UK, he worked with Bechtel Ltd in its Oil and Petrochemical refining business unit in London. His professional engineering experience ranges from control design in diverse applications in textile and packaging machines to detailed engineering review of instrumentation in large scale process plants.

In his career spanning almost two decades, Harshal has significant research experience in the areas of Dynamics and Control. Harshal has published in leading international applied mathematics journals by publishers such as Society of Industrial and Applied Mathematicians (SIAM, USA), American Institute of Aeronautics and Astronautics (AIAA, USA) and The Institute of Mathematics and its Applications (IMA, UK). His papers have also been published in reputed international conferences such as IEEE-ICRA (Robotics and Automation) and IEEE-CDC (Control and Decision). In his position as a faculty in a University, Harshal has secured funding for his research project from the Department of Science and Technology (DST) and has successfully completed research in Robotics via publications and product manufacture. Harshal routinely works in collaboration with reputed institutions such as IITs and IISc in India and INRIA in France.

Harshal was with Ahmedabad University as an Assistant Professor in School of Engineering and Applied Science from April 2015 to April 2020. He is an active member of IEEE, IET and ASME. He is also a Chartered Engineer (C.Eng) which is a professional qualification awarded by Engineering Council, UK.

Tilomi Desai - Director Operations
Tilomi is director of operations at Robo Tech Mech Solutions Pvt. Ltd.(RTM) She is responsible for leading the organisation, to help overcome any operational challenges and managing project lifecycle.

Tilomi has completed her Bachelors in Economics and Masters in Business Administration. She holds experience in the finance/banking industry within India and the UnitedKingdom. Currently working for one of the top British high street Banks and she is an accomplished chartered professional banker.

Tilomi has gained extensive experience in setting up and supporting projects of large scales. She supports the production planning process and ensures key performance indicators ( KPIs) are in place and targets are met. She maintains constant communication with management, staff and vendors to ensure proper operations of the organisation. Tilomi's experience in developing, implementing and maintaining quality assurance protocols helps to mitigate risks and grow the RTM efficiency.

Tilomi is invested to learn about the new industry and contribute her experience and knowledge to the RTM team for the future project and endeavours. This guides the RTM to be on par with the international organisation standard and support the Managing Directors vision to make RTM a very large vehicle to generate employment in India.

Tilomi is also an active supporter of the small scale Food and Beverage Production unit where she believes that empowering small and medium scale production facility workers with technology will allow them to compete with international norms and cater for the growing demand.